UNION OF MYANMAR. IRON MAKING PLANT USING THE ROMELT PROCESS
PROGECTS > Foreign Projects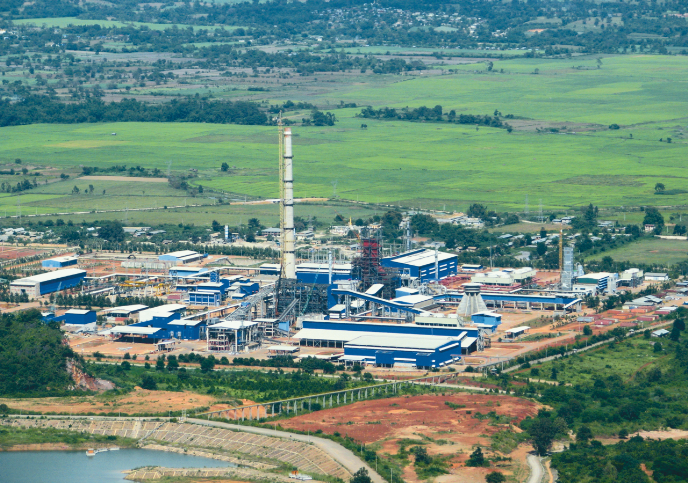 Panoramic view of the Plant site. Construction stage
"Zero" point of the future Plant in Myanmar
Basic indicators of the smelting process
Rate of oxygen enrichment of blast, %

60 – 70




Furnace hourly capacity, t

25.3




Hourly rate of burden materials consumption, t:

iron ore

coal

lime

fired dolomite

quartz sand

Hourly slag yield, t




20 – 25




Hourly energy carriers consumption, thou. Nm

3

/h

- blast for blowing tuyeres, total

including:

oxygen

air

oxygen for afterburning

Hourly release of process gases from the furnace,

thou. Nm

3

/h

90 – 100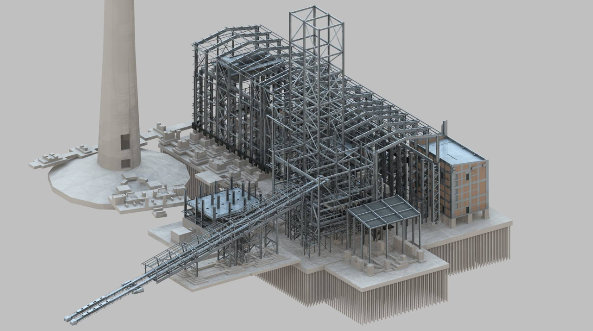 Three–dimensional simulation model of the Romelt Shop
Electronic audit of the working documents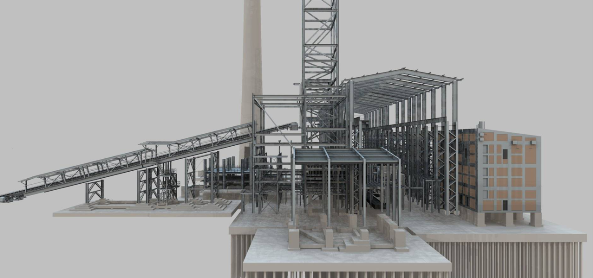 Three–dimensional simulation model of the Romelt Shop
Electronic audit of the working documents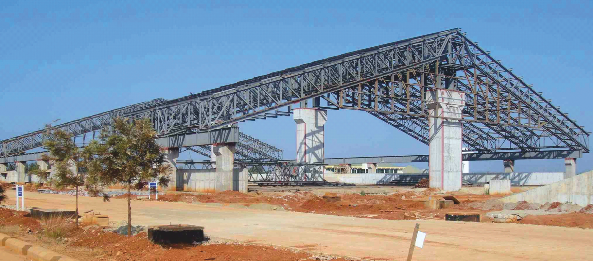 Erection of the Coal Preparation Unit structures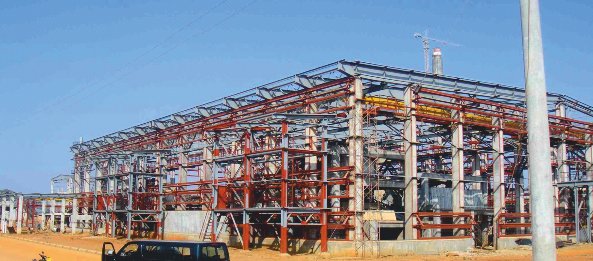 Erection of the Ore Sizing and Beneficiation Plant structures
The Iron Making Plant Project in the Union of Myanmar is the first implementation on industrial scale of the unique Russian technology – the ROMELT process – which makes it possible to process the poor iron–bearing ore without any preliminary beneficiation and to obtain a marketable product – the pig iron. As raw materials for the pig iron production the local poor iron ore of the Pang Pet deposit with the iron content of ore not exceeding 29 % and the power–generating coal of the Kye Thee coalfield are to be used.
In addition to the prime product – the pig iron – the ROMELT process allows to produce also slag for commercial use (building of roads, erection of structures) and electric power in the quantities sufficient to meet the own requirements of the Plant and to transmit the power energy into the external electric power system of the Union of Myanmar.
In preparation of the design documents of the Iron Making Plant using the Russian Romelt process in the Union of Myanmar with an output of 200,000 tons of pig iron annually the following organizations have participated:
"Lengipromez" Open JSC, the General Designer, has executed the comprehensive designing of the main units of the Plant, including designing of the service bins, the Romelt Shop, Pig Casting Machine, General Works Laboratory, Repair Shop, storage facilities, plant water supply facilities, Air Compressor Station, Gas Distribution Station of the external energy carriers systems.

"Energoprojekt – Warszawa S. A." – comprehensive designing of the Coal Preparation Unit of the Iron Making Plant.

"Mekhanobr Engineering Co." – comprehensive designing of the Ore Sizing and Beneficiation Plant.

RUP "BelNIPIEnergoprom" – comprehensive designing of the Waste–Heat Recovery Electric Power Station (WHRPS).

"Tyazhpromelektroprojekt Ltd" – designing of the Plant electric power supply system.
The ceremony devoted to the first stage of commissioning of the Iron Making Plant to-be-constructed according to the innovative Russian technology "Romelt" took place on October 21, 2015 in the Union of Myanmar. Construction is being carried out within the contract signed by the Myanmar Economic Corporation and the Joint Stock Company Foreign Economic Association "Tyazhpromexport" included into the "Rostec" State Corporation.
The unique technology "Romelt" represents a single–stage process of the iron smelting from various iron–bearing materials by means of their liquid–phase reduction using the power–generating coal, without use of coke and preliminary preparation of the iron–bearing burden material. Actually, this is a noblastfurnace practice of iron production from iron ore. For the first time this technology was tested at the Integrated Iron and Steel Works in Lipetsk and in Kazakhstan.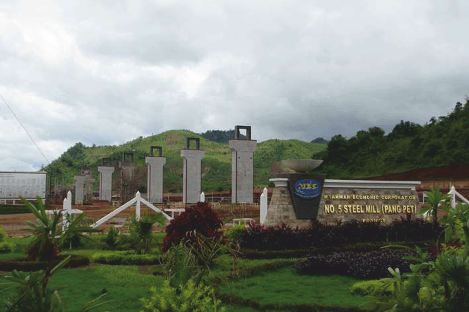 Construction of the Romelt Plant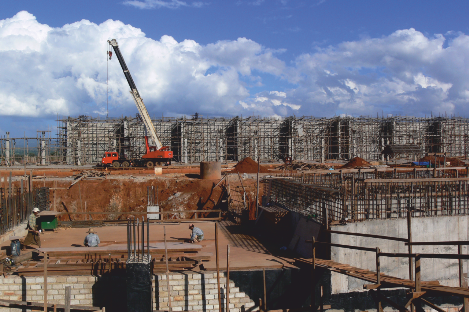 Civil–engineering and erection works at the Pomelt Plant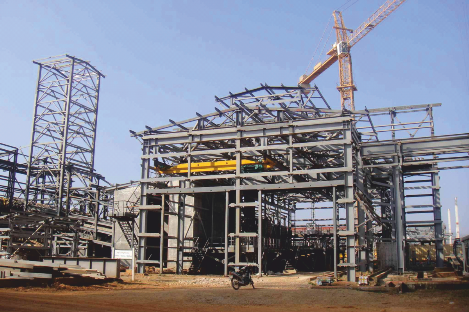 Erection of the Pig Casting Machine building structures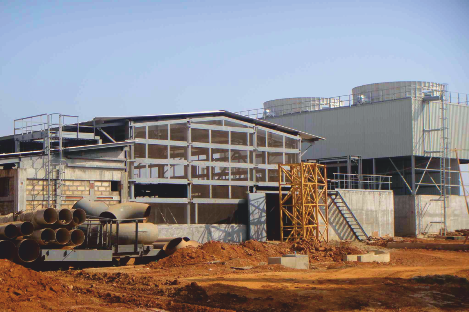 Erection of the Pump House № 2 structures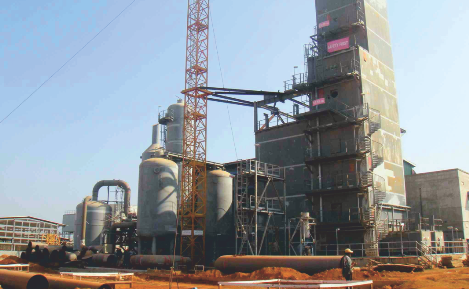 Erection of the Oxygen Plant structures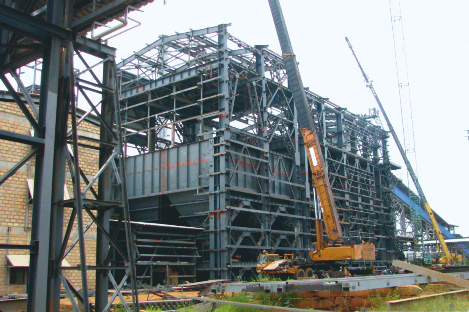 Erection of the stock bins of raw materials structures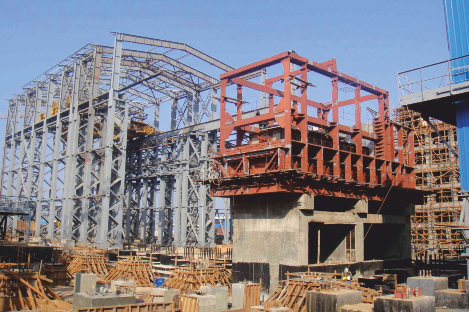 Framework structures of the casting bay and the Romelt furnace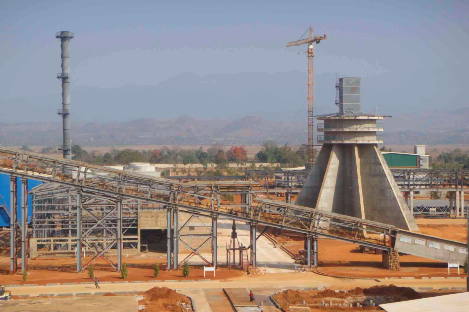 Construction of the scaffold bridge of the burden delivery conveyer system into the Romelt furnace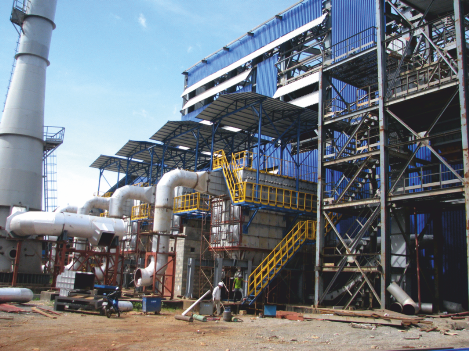 Erection of the gas cleaning plant of the hot–metal desulphurization unit in the Romelt Shop